Wyoming Power of Attorney Forms
A Wyoming power of attorney form is a type of legal document used for giving a person the right to complete tasks and/or make decisions in the name of another. It is drawn up by an individual known as the principal, who will assign power(s) to a person known as their "agent" to complete tasks on their behalf. The form is used by business professionals for the purpose of delegating, family members to assign a loved one with the right of making end-of-life decisions, and much more. Wyoming law requires all POAs to be notarized, regardless of their use.
---
---
Types (6)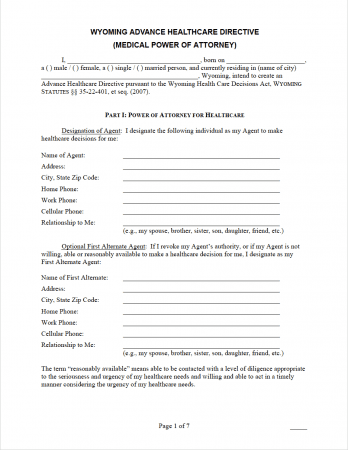 Advance Health Care Directive – For assigning a person that will make medical-related decisions for the principal, as well as for specifying how they'd like to be treated during end-of-life care.
---
Durable Power of Attorney – For granting power permanently – stays active even if the principal cannot make decisions for themselves.
---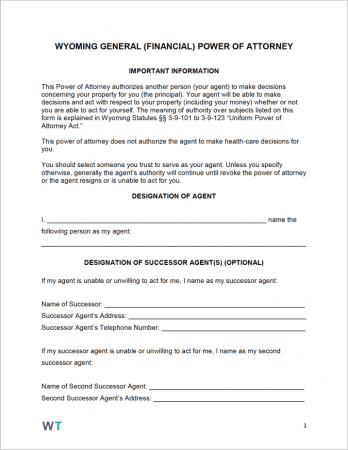 General (Financial) Power of Attorney – Empowers someone to make decisions relating to your finances. The agreement terminates if the principal can't make decisions on their own any longer (incapacitated).
---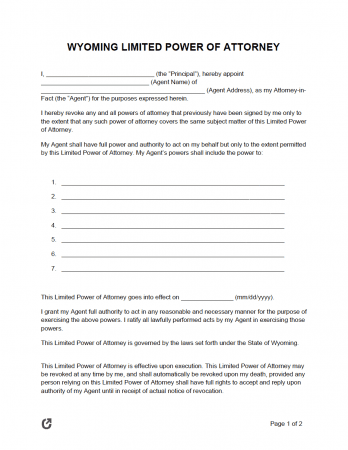 Limited (Special) Power of Attorney – For assigning power for one-time tasks, such as signing a title.
---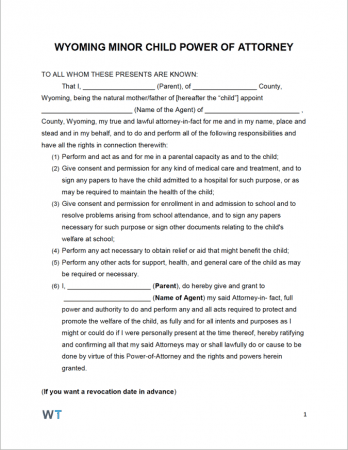 Minor Child Power of Attorney – For providing a person with the temporary power to act as their child's guardian.
---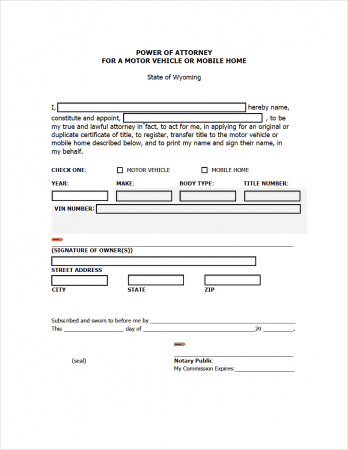 Motor Vehicle (DMV) Power of Attorney – Provides short-term legal powers over one's car or truck, such as registering or selling the vehicle.
---
Laws & Signing Information
Wyoming Power of Attorney Laws
Signing Requirements
General / Durable Power of Attorney (§ 3-9-105) – Must be signed by the person creating the form (the principal) in view of a Notary Public.
Power of Attorney For Health Care / Medical Power of Attorney (§ 35-22-403) – The POA must be signed by the principal (or expressly direct another individual to sign it on their behalf in their presence), notarized, and/or signed by at least two (2) witnesses,