Firearm / Gun Bill of Sale Form
A firearm (gun) bill of sale form finalizes the exchange of one (1) or more firearms between a buyer and a seller. By signing, both parties verify they do not have a criminal or mental health record and can legally own a gun. It also signifies their mutual agreement on the sale terms.
Summary
Used for private and dealer transactions.
Requirements vary by state (see laws).
It does not need to be notarized.
---
---
By State
---
What is a Firearm / Gun Bill of Sale?
A firearm (gun) bill of sale is a formal document that outlines the deal between two (2) individuals for the transaction of a gun. It prevents animosity after the exchange as it transcribes the prearranged and agreed-upon terms and conditions. The form also releases the previous owner from blame or accountability. Simultaneously, it makes the new owner responsible and, therefore, susceptible to legal action if something goes wrong with the weapon post-sale.
Merchants have a legal obligation to protect themselves and other citizens by assuring the buyer has a clean record. Taking this step means that the owner undoubtedly knows that the recipient does not have mental health challenges that impair their ability to operate or possess a weapon. It also implies that the purchaser has not committed a federal crime and does not have intentions to do so in the future.
Paying for an authorized background check during the private sale process further verifies the buyer's identity. It brings the seller peace of mind knowing they did not sell a gun to an unstable individual or felon, which is a federal offense. Before handling the purchase, sellers and buyers should learn more about their county, state, and federal laws. Reviewing regulations ascertain that both parties have taken the necessary steps to transfer the weapon.
---
How to Legally Sell a Gun (6 Steps)
Read the steps below to learn how to lawfully exchange a firearm for cash, trade, or gift.
Step 1  – Research Gun Laws
Reviewing local gun laws guarantees that the seller carries out the transaction properly. Private sales differ from dealership trades, which have an official firearm sale process.
The merchant must obtain and complete the necessary paperwork required by the state. Likewise, they must request documentation from potential buyers as needed.
Step 2 – Prepare the Gun
Before listing the firearm, the owner must closely evaluate its condition by checking for damages, scuffs, dirt, or other issues. Repairing it before the sale ensures that it attracts more potential buyers and sells at a higher cost. For this reason, many sellers get a second opinion from a gun store or dealer before advertising.
Step 3 – Estimate the Value
Consider the gun's make, model, condition, and year when conducting a valuation. These factors determine how much to sell it for and how much a buyer might pay.
Setting an initial higher cost helps merchants make a profit when negotiating with buyers. For example, if a seller lists the gun for $2,000 and a buyer offers $1,500, the two parties could settle at $1,750. In this situation, the seller still makes a reasonable profit.
However, if they set the initial price at $1750, they would likely receive $1,500, or less, in the negotiation. Therefore, determining a realistic price for the item helps both parties strike a deal. With this in mind, the owner must avoid setting an extremely high value. If this happens, it will turn away buyers and decrease the overall likelihood of a sale.
Websites (such as gunbroker.com, guns.com, gunsamerica.com, and gunvalues.gundigest.com) do the calculation for the seller. Running the information through a site can cut back on time and ensure the owner sets a realistic price. This method tends to be more accurate because it compares the data against similar guns to establish an appropriate selling price.
Step 4 – Select a Buyer
Merchants can sell firearms in three ways: 1) face-to-face, 2) via a store, or 3) online.
Gun sales often occur in person to verify the buyer's identity and confirm they can legally own weapons. Furthermore, many states have laws that prevent individuals from mailing firearms or ammunition.
In-person sales generally begin with the merchant posting local fliers and advertisements. Eventually, interested parties reach out with bids and ask questions. In many cases, sellers receive requests from individuals wanting to evaluate the firearm before purchasing. Physically seeing the gun ensures its authenticity and condition, thus making a sale more likely.
When selling a gun privately, the owner must interview potential buyers and conduct background checks (as needed). This step ensures they do not give the firearm to a criminal or mentally unhealthy person. The process is fundamental if the buyer reaches out from an online source or the merchant does not personally know the individual.
As a final option, the individual can use a third party to sell their firearm. The store usually takes a percentage of the profit; however, they also conduct background checks and tours for the owner. Overall, this method requires less work and boosts the chances of a successful sale.
Step 5 – Complete a Bill of Sale Form
After the seller has confirmed the identity and background of the buyer, they move forward with the transaction. In the next step, the merchant and customer complete a firearm bill of sale form. This document acts as a formal receipt for the sale and includes pertinent information about both parties and the gun.
The buyer and seller can use a generic form to record the deal. However, they must use the state- or county-specific form if their location requires it. Otherwise, the police department can reject the gun bill of sale if it ever needs evaluation.
By signing and keeping a copy, the buyer and seller can each prove the genuineness of the deal. Furthermore, both parties should complete the form electronically or in blue or black ink so that the information does not rub off or become illegible.
Print or download the firearm bill of sale to provide the following information:
Buyer & Seller Personal (contact) information;
Firearm information;
Payment details;
Additional terms (optional);
Signatures; and
Notarization (requirements vary by state).
Step 6 – Exchange the Weapon
When signing occurs, the seller must transfer the gun to the buyer and any other agreed-upon items. For example, the merchant might include ammunition, chambers, or other extra parts. The purchaser must provide the requested payment or trade an item of similar value in exchange.
If the seller gifts the firearm, both parties must write this information in the form. The original owner should also review local laws to ensure that they can legally gift a gun to another person in their state.
---
Gun Sale Laws: By State
| | | |
| --- | --- | --- |
| STATE | LAWS | REGULATIONS |
| Alabama | §§ 13A-11-50 to 13A-11-91 | Alabama requires a permit to carry a concealed gun. |
| Alaska | §§ 11.61.190 to 11.61.220 | Residents can open or carry without a permit unless they are less than 21 years old, a felon, intoxicated, or in restricted areas. |
| Arizona | ARS. Title 13: Chapter 4, 31 | Individuals in a permittable area who abide by state requirements can legally open or carry concealed firearms. |
| Arkansas | | Arkansas gun owners can open or conceal carry in allowed locations. They can apply for regular or enhanced permits to increase the number of places they can carry. |
| California | Penal Code Parts 1-6 | California has many gun restrictions. The state requires residents to undergo a background check to purchase, register their firearm(s), and obtain a permit to acquire or open carry. Even with a clear-cut reason for needing it, individuals have a slight chance of receiving a license. |
| Colorado | CRS. 13, 18, 19, 24, 29, 33 | Only firearm owners with concealed carry licenses can have a hidden gun in public spaces. Private sellers must conduct an official background check on buyers. |
| Connecticut | CGS §§ 26, 29, and 53 | Per state law, citizens must have a permit to open and concealed carry and purchase and register a gun. Background checks are mandatory for private sales. |
| Delaware | 11 Del. C. §§ 1301 to 1474 | Residents cannot conceal carry without a permit. Private merchants must carry out a criminal records check. |
| Florida | Fla. Stat. Chapter 790 | Open carry is not allowed. Owners must have a license to carry the gun concealed. |
| Georgia | OCGA Title 16 | Open and concealed carry restrictions mandate a person to retain a permit. |
| Hawaii | HRS §§ 134-1 to 134-90 | Hawaii has strict firearm laws and does not approve open or concealed carry licenses unless the applicant has a unique reason for needing one. Citizens must register guns and perform criminal records checks during private sales. |
| Idaho | IC Title 18 | Residents must be eighteen (18) years or older to have a gun. Firearm holders can only open and concealed carry in unrestricted locations. |
| Illinois | | Individuals must have a permit to purchase, own, and carry a concealed firearm. Open carry is not allowed, and all residents must undergo a background check before purchasing (including private sales). |
| Indiana | IC 35 | Open and concealed carry permits are mandatory. |
| Iowa | Chapters 704, 707, 724 | A person(s) over twenty-one (21) can legally open or concealed carry a weapon so long as they are in an authorized location. |
| Kansas | KSA §§ 21, 75 | Individuals can open and conceal carry a weapon without a license in specified areas. |
| Kentucky | KRS § 237 | Open and concealed carry is allowed in lawful areas. |
| Louisiana | La. RS 40 | Concealed carry requires a permit; however, gun owners can open carry without a license. |
| Maine | 25 MRS §§ 2001 to 2042 | Residents can display their gun(s) in public in a hidden or visible manner without a permit. A license is needed to carry in unauthorized locations. |
| Maryland | Chap. 427 (Senate Bill 281) | Per Maryland law, individuals must have a permit to buy, open carry, and concealed carry a weapon. They must register guns with the state, and private sellers must check the potential buyer's criminal and mental health history. |
| Massachusetts | Mass. Gen. Laws Ch. 140, §§ 128, 129, 131 | Individuals need an official permit to purchase and own a gun. Licenses are required to open and concealed carry. A private merchant has to conduct a background check on a person before selling the firearm. |
| Michigan | MCL §§ 28, 750 | To purchase and concealed carry a firearm, a resident must have a permit obtained from the state. The seller must also review the individual's criminal and mental health record to ensure they can legally own a gun. |
| Minnesota | §§ 624.71 to 624.7192 | Residents who wish to own a handgun must obtain a permit to purchase and carry it either openly or in a hidden manner. Shotgun and rifles purchases do not require the individual to have a permit to purchase or carry. |
| Mississippi | Miss. Code Ann. §§ 45, 97 | Gun holders can open or conceal carry a handgun unless they are in a non-approved location. |
| Missouri | RSMo 571 | Open and concealed carry is permitted in legal areas. |
| Montana | MCA § 45-8 | Individuals can carry weapons publicly or privately in accepted locations as long as they can legally possess a gun. |
| Nebraska | Neb. Rev. Stat. §§ 28-1204.01 to 28-1212.04 | Firearm owners must register their guns if they reside in the City of Omaha. Otherwise, they do not need to undergo firearm registration. Interested parties must obtain a license to purchase, own, and concealed carry, and private sellers must perform an official background check on buyers. |
| Nevada | NRS 202 §§ 253 to 369 | Firearm owners must have a concealed carry license if they wish to have a hidden gun on their body. Private sales must involve an officialized background check. |
| New Hampshire | NHRS XII § 159 | Lawful citizens age eighteen (18) and older can possess a gun in a visible or hidden manner. |
| New Jersey | N.J. Admin. Code § 13:54 | New Jersey requires natives to obtain a license to purchase, concealed carry, and open carry. Background checks are necessary for private sales. Once purchased, the buyer must register the firearm with the state. |
| New Mexico | NMSA 29-19-2 to 30-7-13 | A state-given permit is necessary to carry a concealed gun in New Mexico. Before selling, private sellers must refer to the potential buyer's criminal and mental health background. |
| New York | S 265, 400 | Inhabitants need a permit to purchase and carry a concealed handgun. All weapons must receive registration, and private sales require the use of an authorized background check. |
| North Carolina | G.S. 14-1 to 14-461 | North Carolina requires residents to have a permit to purchase and carry concealed. Private sellers must move forward with a background check once a buyer wishes to buy a weapon from them. |
| North Dakota | Chap 62.1-03 to 62.1-04 | Gun owners at least eighteen (18) years of age can lawfully conceal carry a gun. However, they must obtain a permit to open carry. |
| Ohio | ORC § 2923.13 | Residents must have a permit to hide a gun on their bodies in public places legally. |
| Oklahoma | §§ 21-650.5 to 21-1903 | In Oklahoma, individuals can open or conceal carry publicly as long as they lawfully possess the firearm. |
| Oregon | ORS 166 | Firearm owners need a license to concealed carry. |
| Pennsylvania | 18 Pa.C.S.  | Concealed carry licenses and private sale background checks are obligatory. |
| Rhode Island | RI Gen. Stat 11-47 | Individuals purchasing a gun and open or concealed carrying it needs a license. Sales outside of a dealership (private sales) require the buyer to undergo a criminal and mental health status check. |
| South Carolina | SC Code 16, 23 | Permits are required if a resident wants to open or concealed carry. |
| South Dakota | SD 23-7 | Residents can carry firearms as they would like in South Dakota under two (2) conditions: 1) they are in an authorized location, and 2) they can lawfully own a gun. |
| Tennessee | TC.A §§ 39-17-1309 to 39-17-1359 | Tennessee dwellers can publicly display a gun in plain sight or hide it under their clothing. However, they cannot in prohibited areas. |
| Texas | Tex. Penal Code § 46 | Texans can legally carry a weapon whenever and wherever they wish unless they are in a "gun-free zone." |
| Utah | UT Code § 76-10-5 | Utah law reads that residents can bear arms as long as they are not in a restricted location. |
| Vermont | 13 VSA §§ 4001 to 4061 | The state instructs private sellers to perform a background check before selling a gun to someone else. |
| Virginia | §§ 18.2-307.1 to 18.2-311.1 | By law, individuals must have a concealed carry license and perform background checks on buyers. |
| Washington | Chapter 09.41 RCW | Washington requires citizens to obtain a concealed carry license and gives private sellers the responsibility of doing a background check on buyers. |
| Washington DC. | DC Code §§ 7-2501.01 to 7-2551.03 | A permit is necessary to purchase a weapon and open or concealed carry. Private sales require a background check, and gun registration is mandatory. |
| West Virginia | § 61-7 | West Virginia does not have a mandate for concealed or open carry licenses. |
| Wisconsin | Wis. State. §§ 175, 941 | Permits are necessary for concealed carry in Wisconsin. |
| Wyoming | WS § 6 | Obtaining a permit and/or registration is not necessary per Wyoming law. |
---
How to Write a Gun Bill of Sale (6 Steps)
Utilize the steps below to execute a firearm bill of sale accurately.
Step 1  – Today's Date
Enter the transaction date in an mm/dd/yyyy format.

Step 2 – Personal Details of Both Parties
Write the given (full) names of the buyer and seller and their home address, phone number, and email.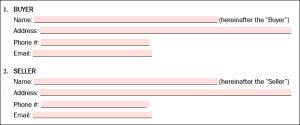 Step 3 – Firearm Manufacturing
Provide the manufacturing information of the gun by including its make, model, type, caliber (gauge), and serial number.

Step 4 – Transfer Information
State the payment method used, such as by payment (cash, credit card, or check), gift, or trade. Check the both next to "Yes" if the price included taxes and "No" if not.

Step 5 –  Added Conditions
In the "Additional Terms" section, enter other essential details of the sale. For example, if the firearm had a recall, flaw, or another issue, the seller would use this section to explain further. Filling in this part of the document is not a requirement.

Step 6 – Signatures
The buyer and seller must write the current date, sign the form, and inscribe their full name in print.

Step 7 – Notarization (Variable)
Notarization is not usually required. However, buyers and sellers must sign in front of a notary public in states with requirements. At that time, they must present a valid form of photo identification to confirm their identities.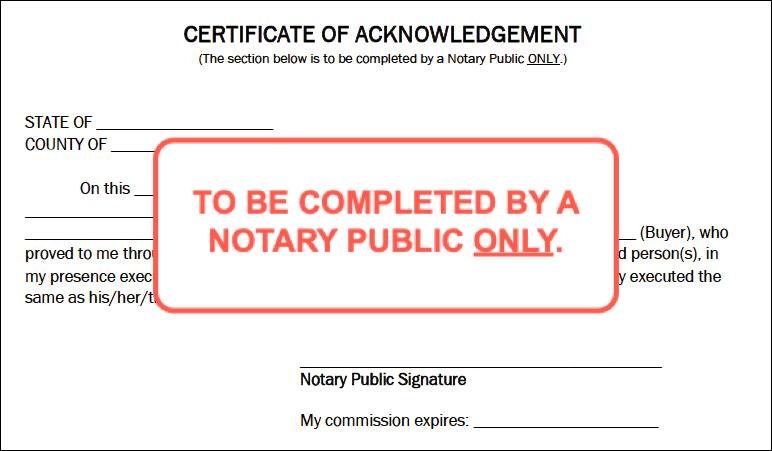 ---
Sample Gun Bill of Sale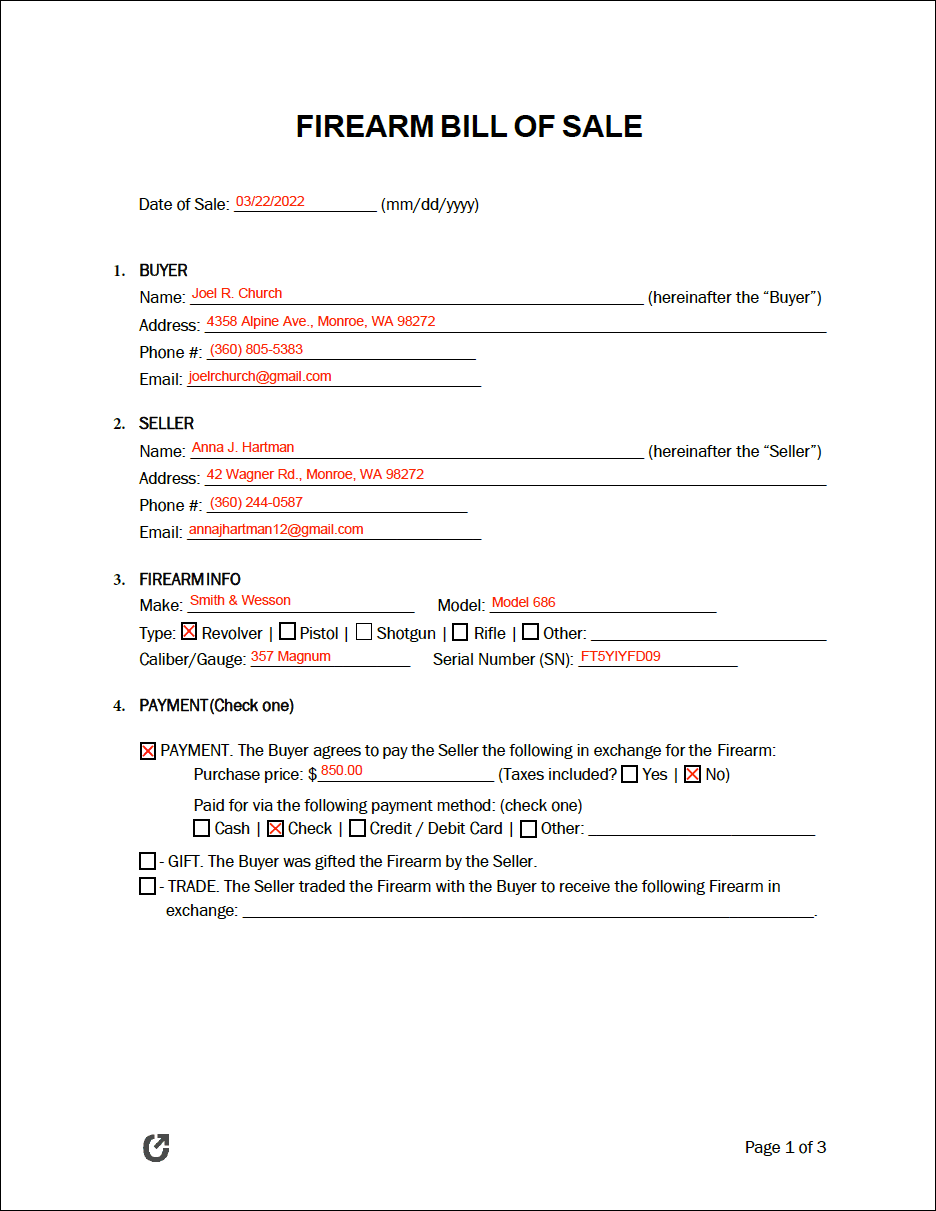 ---
Frequently Asked Questions (FAQ)
Refer to the queries below to receive answers to commonly asked gun ownership questions.
What is "CWL" on a firearm bill of sale?
The term "CWL" on a firearm bill of sale stands for "Concealed Weapon License." It means that the state has authorized the license holder to purchase and own guns.
Individuals must pass a criminal background check and mental health evaluation to obtain a permit. In addition, many US states require residents to complete a gun safety course. The class provides education on local laws, gun ownership, and best practices for using a firearm.
Per federal law, a merchant cannot sell a weapon to a criminal or mentally unstable person, or they become liable. If caught, the seller can face jail time and fines. Therefore, owners are more likely to sell to someone with a valid CWL because it proves they can legally have a firearm.
Does a firearm bill of sale need to be notarized?
Most states do not require notarization for a firearm bill of sale. However, residents should check with their local county and state laws for more information.
Can you buy a gun with a suspended license?
It depends. States have unique laws for residents purchasing a gun with a suspended license. The cause of suspension can also determine whether or not the individual can buy a firearm. For example, felons, patients detained in a mental facility, or those with cognitive illnesses cannot legally possess a weapon, regardless of the state of residence.
Can a DUI stop you from purchasing a gun?
Generally, no. However, drivers with multiple driving under the influence (DUI) offenses cannot purchase or own a gun in most cases. Similarly, if they committed a felony DUI or had involvement in criminal drug cases, domestic violence, or any other illegal activity, the federal and state court ban the person from having a firearm.
Do I need a permit to shoot a gun?
Each state has its own set of laws for shooting a gun with or without a permit. Statutes provide more details on firing at a shooting range or on private or public property. Learning more about firearm laws through a local police department or state official online guide can help provide definitive, clear-cut answers.
Can you carry a gun and have a medical card?
No. According to federal and state law, US residents cannot have a gun if they have or use marijuana. By having a medical card, an individual gives up their right to own or use a firearm. Law enforcers can arrest and ticket individuals who engage in this behavior.
Additionally, citizens who hold a medical marijuana card cannot obtain a purchase permit or an open or concealed carry license (CCL). In other words, the resident must have one or the other, but not both.
Pennsylvania is the only state that allows someone to have a medical marijuana card and a CCL at the same time. Unique circumstances could further impact a person's eligibility to possess both, and for this reason, individuals should consult with local law to learn more.
Can you hunt if you have a medical card?
No. An individual cannot use a firearm for any reason while simultaneously possessing marijuana or a medical card in any state (except Pennsylvania). Federal and local courts can sentence offenders to jail or house arrest, make them pay fines, or request they carry out community service.