Freelance Invoice Templates
A freelance invoice template is a bill issued by freelancers and part-time professionals for the purpose of providing an organized breakdown of the total amount a client is required to pay for services received. The term "freelancer" can include anyone that offers their services on a need basis (not on salary). Common professions that work on a freelance-basis include writers, developers/programmers, graphic designers, proofreaders, transcriptionists, and careers that have an online or digital focus.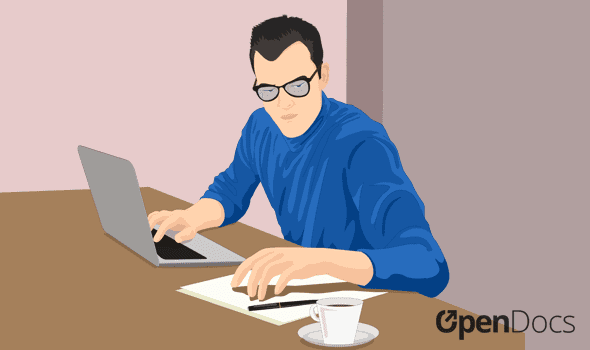 ---
Types (8)
Freelance Chef Invoice – Lists the food expenses and labor costs that accrued from a professional chef's services.
---
Freelance Consultant Invoice – Used for charging clients on an hourly basis for the expert opinions and/or guidance they received.
---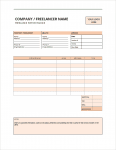 Freelance Editor Invoice – A document that allows someone that proofreads and polishes written content a means of charging for the hours they spend on each task or job.
---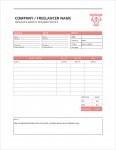 Freelance Graphic Designer Invoice – A billing form that contains services and/or designs provided to a client. Can be used for general images, logos, website design, and much more.
---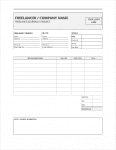 Freelance Journalist Invoice – For charging clients and companies for the writing and/or reporting of stories.
---
Freelance Translator Invoice – Can be used for charging for translation services on an hourly or per-word basis.
---
Freelance Videographer Invoice – For collecting payment after the job(s) have been completed. Specifies the total owed amount, the service(s) provided, and the amount of time the client has to pay.
---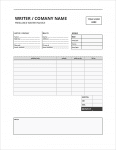 Freelance Writer Invoice – Provides part or full-time copy, content, bloggers, ghost, and technical writers with a professional means of requesting payment from employers.
---
What is Freelancing?
Freelancing has been gaining momentum in our nation, and shows no signs of slowing down.  A freelancer is someone who does not have a steady full-time employer, but rather, he or she works for themselves, contracting their labor out to a variety of places in order to make money. Freelancers, in addition to the job they are contracted to do, are also responsible for time management, billing clients, and paying their own taxes, among many other tasks. Freelancing is certainly growing in popularity. According to The Balance,
"Approximately 57 million Americans were freelancing in 2019, and if trends continue, more than half of Americans will be freelancing in the future."
The upward trajectory of freelancers speaks to the current marketplace. Fewer people keep a job for life, and more people want to dabble in a variety of enterprises before settling down. Freelancing has grown so popular that it is even changing the way people talk about the workforce. The Gig Economy is the new term used to describe a world full of people who are freelancing. A gig is the name for the freelance job itself, and many contractors juggle more than one gig at a time. Although some people have a 9-5 job and use freelancing as a side hustle, there is an increasing number of people who are freelancing full time.
How Does One Become a Freelancer?
In order to become a freelancer, there are several steps you should take. First, consider your marketable skills in deciding if this is right for you. In addition to a skill such as writing or designing, you also need to be organized and dedicated in order to work for yourself. Knowing yourself is important, because it takes a special person who has the discipline to stay focused and on task with no boss around.
Secondly, find a platform that is right for you. Rather than having to cold call and hustle up your own business clients, a platform allows you to find clients more easily. You will need to create a profile of yourself and exhibit examples of your work that you can showcase on your platform.
Thirdly, set a price for your labor. Especially if you are just starting out, you might have to work very cheaply in order to get good feedback so that you can get hired more regularly by other subsequent clients. Once you have some work under your belt and some references, you can raise your "per hour" or project fees in order to improve your bottom line.
As a freelancer, taking some time to get a mentor in the same field you are interested in is a great way to improve your skills and learn more about the jobs you are contracting. Working with someone who has been through what you are going through will help you achieve your goals more quickly.
How to Pay Taxes as a Freelancer
As a freelancer, you'll be responsible for paying your own taxes. You will fill out a 10-99: MISC which you report on Schedule C of your taxes. The IRS considers you self-employed if you make more than $400, and you need to file your taxes as a business owner if that is the case.  Additionally,  if you expect to owe more than 1,000 in taxes, you need to pay them quarterly as you go along.
How to Find Work as a Freelancer
As mentioned above, your freelancing career will go much smoother if you use a platform to help you get started. There are many platforms that can help, depending on what talents you possess. Business magazines and websites like Forbes, Business Weekly, Entrepreneurship, and Bloomberg will all offer timely articles that can help you succeed in the Gig Economy. Since this is such a trend, business magazines and websites are covering freelancing topics carefully.
There are many examples of platforms that you can choose from. Guru is a site that offers jobs in designing, legal matters, education, secretarial, writing, and more. If you are interested in mobile websites, music, and blockchain development, try People Per Hour. Upwork offers one of the largest client bases for writers, designers, and 90 other categories of freelancers. As the name implies, 99 designs matches web designers, logo creators, graphic designers, and more to people that are interested in hiring them. Publoft, another one of the best platforms of 2020, takes education to new levels with curriculum marketing strategies. In addition to a plethora of other platforms, you can also find specialty platforms like Toptal, who take the top 3% of project managers, software developers, designers, and finance experts and put them all together for clients to choose from.
How to Write
Download the invoice in PDF or WORD.
Step 1 – Issuing Company/Freelancer Details
Under the main 'Freelance Invoice' header, either enter the name of the freelance company. In the proceeding table, enter all applicable company contact details. If there is no company name, enter the details of the individual freelancer instead.
Step 2 – Client Information
For the 'Bill To' section, enter a unique invoice number designated for the bill, the name of the person/entity being billed, their address, the date the invoice will be issued, and the client's phone number.
Step 3 – Billed Services
Next, enter the services that were rendered for the customer. Start with a brief description of each individual charge. Then, input the number of hours it took to complete each billed item and the hourly rate of each (in most cases the rate will stay the same for all charges). In the PDF version, the "Amount" column will automatically multiply the number of hours and rate. Where it says 'Sales Tax,' enter the corresponding tax for the state in which the services are being provided.
Step 4 – Comments & Terms
At the bottom of the document, enter any comments or instructions for the customer. Things to write include the payment terms, where to send the payment, a personal thank-you to the customer, or a correction to a listed expense (after printing it out). Directly below the comment box, specify the number of days the client has to pay the invoice in full. With the completion of the fourth (4th) step, the invoice will be ready to be electronically or physically delivered to the customer.