Service Invoice Templates
The Service Invoice Template is a document issued to a client by a service provider that lists out the services completed along with their costs. It records all pertinent information of both the company and the client and ensures both parties are clear on the terms and conditions. Included in the template are areas for the company's information, the billed client's name and contact information, a list of the services rendered (including the number of hours worked, the hourly rate, and the total amount for each service), an area to enter any notes regarding the invoice, and a spot to enter the number of days until the payment is due. To complete the Service Invoice in either PDF or Word, check out the how-to below.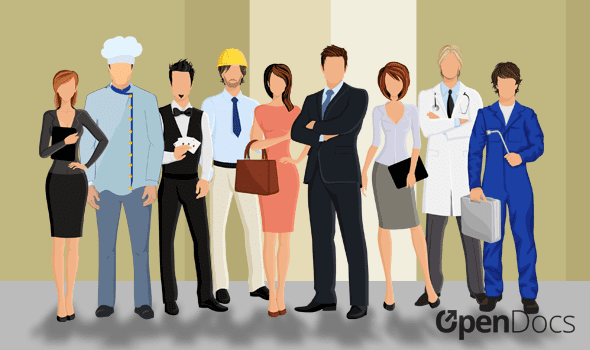 ---
Types (30)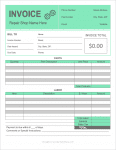 Auto Repair (Mechanic) Invoice
A ledger that records the hourly-based labor charges as well as the parts that went into repairing a commercial or passenger motor vehicle.
---
Gives those that take care of children and kids of all ages a simple and concise way of collecting payment from parents.
---
Gives bakery owners a fuss-free way of billing their clientele.
---
A billing template used by companies and individual technicians that repair the bodies of cars, trucks, buses, motorcycles, and other motorized vehicles.
---
Records the cost of food items and labor that went into providing catering services for corporate, party, and other large get-togethers.
---
A method to bill a client for coaching-related services.
---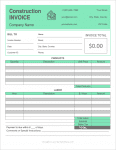 Collect payment post-job for services relating to the manufacturing or renovation of structures.
---
Given to customers upon the successful delivery of a package to clearly express how much they need to pay (and by when).
---
For collecting payment for provided daycare services. Food and other costs can also be billed with the document.
---
Designed for individuals and companies that offer live and recorded audio services at a wide range of venues.
---
Gives certified electricians the ability to bill clients for the time they spend on a repair or project as well as for the materials and products used for the job.
---
A document used by experts in flowers (and horticulture in general) for receiving payment for bouquets and other assortments.
---
A form for collecting fees and/or commissions for managing a client's financial investment.
---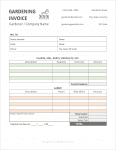 Gardening Invoice – Specifically designed for collecting payment for the labor and/or plant and product costs that went into providing gardening services for a business or residential customer.
---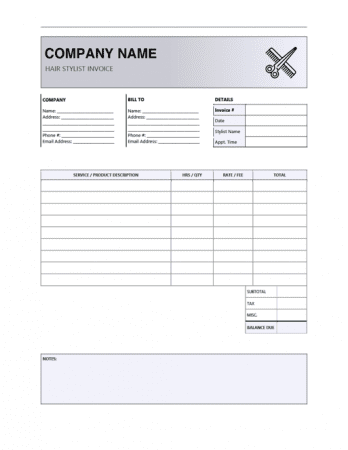 Provides hairdressers with an easy method to bill clients for services relating to hair cutting, styling, and coloring.
---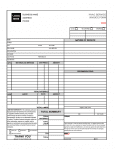 Designed to mirror other professional invoicing documents, this form serves as a comprehensive billing tool for companies and individual, contracted HVAC technicians.
---
A billing tool used by groundskeepers, landscaping contractors, and companies for collecting payment for a wide variety of jobs, including raking, mowing, hedge trimming, sprinkler maintenance, and mulching, to name a few.
---
Can be used for charging by the hour and/or per successful task.
---
A printable form designed specifically for mechanics and auto repair shops to bill their customers for replacing the oil in their vehicle.
---
Once the pest control technician has finished treating the issue (be it bugs, small animals, and other nuisances), they can collect payment for their labor and/or product costs with this invoice.
---
Can be used for pricing group photo sessions, headshots, wedding photography, individual prints, and other products and services.
---
Provided to commercial and residential clients following the completion of one (1) or more services. Actual product costs (such as fixtures and equipment) can be priced into the bill as well.
---
A 1-page document used by handymen, contractors, and companies to bill the owners of rental properties and homes for the labor and/or products they used to complete the job.
---
This form is for crews and solo techs that assist motorists with broken-down vehicles and other needs.
---
Mailed or hand-delivered to customers to collect payment after an individual snowstorm, or after an entire season of plowing. Can also be used for shoveling services.
---
A document specifically for charging the clients of professional developers, whether it's for hourly or per-product services.
---
Vehicle recovery, illegally-parked vehicle removal, flatbed hauling, and other short and long-distance towing services can be charged with this invoice.
---
From local to long-haul, and flatbed to freight, use the trucking invoice to collect payment for goods delivered by truck.
---
Be it MIG, TIG, or stick welding, full or part-time welders can provide this completed invoice to customers to recoup product costs as well as receive compensation for the time spent on the job.
---
A ledger that records the hourly-based labor charges as well as the parts that went into repairing a commercial or passenger motor vehicle.